By Pete Pistone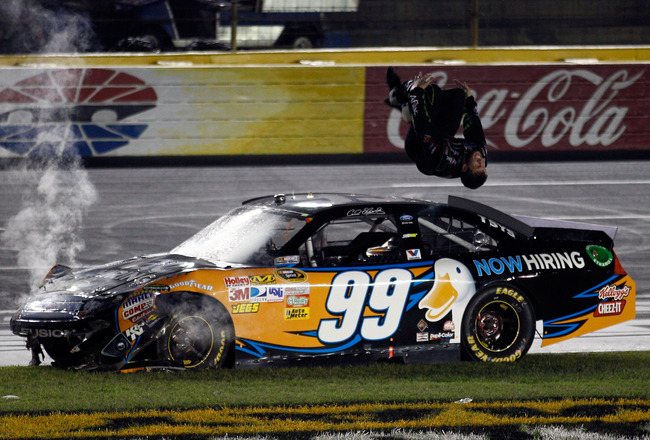 (Edwards damaged his car in the post-race celebration but was still the All-Star Race winner at Charlotte in May)

Review

Roush Fenway Racing couldn't have missed out on the 2011 Sprint Cup Series championship any closer than it did. Unfortunately the organization and Carl Edwards has the dubious distinction of being the only team to miss out on a title by virtue of a tiebreaker, thanks to Tony Stewart's five victories in the season.
But the season turned in by Edwards was still impressive and overall RFR enjoyed another banner campaign even if the Sprint Cup trophy didn't accompany team owner Jack Roush home from Homestead.
"I'm 69 years old, and I had a couple of chances to look at my own mortality and think about what I have done with my life," Roush said trying to put the disappointment in perspective. "Looking at the end of your time in the mirror thinking that you missed an opportunity that could have ended your time probably did more to sober me than anything else."
Edwards won one race during the year in addition to taking home a one million dollar payday in the Sprint All-Star Race at Charlotte Motor Speedway. He was otherwise the model of consistency. Edwards finished second seven times and although he managed an average finish of 4.9 in the Chase (the best in the format's history), it wasn't enough to stop the Stewart and his incredible drive to the title.
"If I look back on this Chase, there's not one thing that I say that I'd have done or wish I had done," Edwards said. "I'm truly proud of this season."
The year also included some contract drama for Edwards who after entertaining offers from other teams including Joe Gibbs Racing signed a contract extension to remain in the Roush camp.
Edwards' teammate Matt Kenseth had another typically consistent year that saw the former series champion return to victory lane with multiple victories.
Kenseth finished the season fourth in the series standings and scored three wins along the way, including a victory at Texas Motor Speedway in April to snap a 76-race winless drought.
Through it all, Kenseth was his usual low-key self and didn't mind if others received more attention.
"What's important to me is trying to win races and trying to be competitive and doing the best job we can do every week," Kenseth said. "I don't really care about Wii dance-offs or how much coverage you get for doing certain things. If somebody wants to say I'm boring or whatever, I was hired to try to win races and try to run good and that's what I try to do every week."
His undoing may have come at Martinsville when he was swept up into a feud with Brian Vickers that ended with Kenseth in a wrecked race car and took him from championship contention.
"I wish Matt hadn't lost his mind at Martinsville and taken himself out of contention," said a disappointed Roush. "Finishing fourth in points is commendable but he wasn't challenging for the championship at Homestead, which we had hoped for."

Greg Biffle went through the campaign winless and could finish no higher than sixteenth in the standings. A variety of pit road miscues as well as mechanical problems added to Biffle's frustrations.
"We didn't win a race with Greg Biffle and we should have," Roush said. "We should have won more races with Carl but we didn't – either because of decisions we made on pit road or because of the way things unfolded on the race track in regards to weather. Sometimes a wreck and a caution that would occur would frustrate your best-made plans and strategy."
Finally David Ragan became a first-time Sprint Cup Series winner with his victory at Daytona in the July Coke Zero 400. Ragan nearly won the Daytona 500 but was penalized for an illegal pass on a late race restart but was able to rebound with the trip to victory lane in the annual Fourth of July weekend race.
However it was a pressure-filled year for Ragan who was forced to compete not knowing what his future would be with the team given sponsorship issues with long-time backer UPS.
In the end UPS pulled its full-time sponsorship from the No. 6 car and Ragan was squeezed out when Roush was forced to downsize his team to three cars for 2012.
While Roush was hoping to keep Ragan in the fold, he was disappointed at his overall performance during his career with the team.
"David Ragan was a frustration and disappointment for all of us because he was not able to realize the potential given what his skill is, what the expectations of the sponsor were and what the performance was being demonstrated in the car and the engineering package was," Roush said.
Preview
The streamlined Roush stable brings Edwards, Biffle and Kenseth back for 2012 and hopes to avoid a hangover effect of just missing out on last year's championship.
Edwards and crew chief Bob Osborne feel confident they can put last year's disappointment behind and concentrate on finishing the job this season.
"I've accepted the fact that we didn't win it, but I'm also really excited about the way we could potentially run this year," Edwards said. "I feel more confident than I've felt ever, and kind of more calm because I know we can do it."
Kenseth has found chemistry with old school crew chief Jimmy Fennig and with the core of the No. 17 team back as well as a host of new sponsors including newcomer Best Buy, the duo looks forward to challenging for this year's crown.
"We won races last year which was big and were in the Chase," said Kenseth. "It didn't work out the way we'd hoped in the end but I have no reason to think we won't be strong again this year and back in the hunt for wins and a Chase spot."
Biffle believes having a full season with crew chief Matt Puccia, who replaced veteran Greg Erwin at mid-season, will be beneficial in the No. 16 team's rebuilding process.
"I can't say enough about Matt and how he helped bring this team together when he came in," said Biffle. "That's a tough thing to do and once we can eliminate mistakes and hopefully some of the bad luck we endured last year we're gonna be in the mix I promise you that."
Outlook
The last driver to come up on the short end of a Sprint Cup title in dramatic fashion was Denny Hamlin when he lost to Jimmie Johnson in 2010 title race. Hamlin and his team was never able to recover from the experience. The pressure will be on Edwards and Osborne to avoid a similar fate. Kenseth should again be his sneaky self and find his way into the Chase but he'll need to not let the wheels fall off his championship hopes again. Biffle was a bit of a mystery last season and still appears to be a long shot to make the playoffs. Overall the leaner Roush organization will be a factor for wins and Chase berths.

CHECK OUT MORE POSTS FROM OUR 2011 TEAM REVIEW/2012 PREVIEW SERIES

For more NASCAR news, rumors and analysis, follow @PPistone on Twitter, subscribe to the RSS feed